---
ATM Products
All prices to be discussed with customer service.
---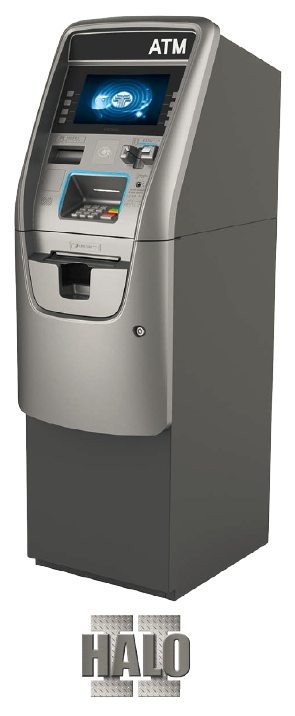 The HALO II
The HALO II provides the best value of any retail cash dispenser in the industry with added peace of mind from enhanced security features at an affordable price. This new member of the Nautilus Hyosung retail family offers an improved UL 291 business hours safe with added break-in protection, an EMV card reader, a PCI 3.0 compliant keypad and secure communications protection using TLS (Transport Layer Security) transmission encryption.
Additional Features
EPP Indicator
Lead-Through Indicator
Earphone Jack
NFC Reader (optional)
Digital Receipt
Supports 6 languages: English, Spanish, French, Japanese, Chinese, Korean
Enhanced Standard 1 Emulation
Dynamic Current Conversion (DCC)
Donations Transaction
Decimal Point Percentage Surcharge
TLS Protocol Communication
---
Introducing the ATM of the future: ARGO

Introducing the ATM of the future. For over 30 years, Triton ATMs have set the standard in innovative cash-dispensing solutions. ARGO, our newest line of ATMs, is no exception. ARGO features an updated, next-generation design with added elements of security, larger screens, and easier-to-read keypads or touchscreen options. For the first time in industry history, models are now available in an eco-friendly, printer-less model, reducing each machine's carbon footprint and resulting in cost savings over the life of the machine.
New updated design features larger wings for added PIN security, improved dispenser security, touchscreen options, and blue LED-lighted keypad for easy-to-read transactions.
New updated design features larger wings for added PIN security, improved dispenser security, touchscreen options, and blue LED-lighted keypad for easy-to-read transactions.
Versatility
Five Models
Six Dispenser Options
Integrated Topper
Lighted Keypad
Capacitive Touch Screens
e-Receipt
Security
EMV Ready
NFC Capable
TKM and MACing
Surveillance Camera Provision
Skimming Protection
Shoulder Surfing Protection
---
Hyosung 2800T

The 2800T brings you through-the-wall convenience and the latest advancements in ATM technology. Plus, the appealing and weatherized exterior is suitable for even the most high-end locales. This heavy-duty machine gives you the dependability and ease of maintenance with the added bonus of high-capacity note storage. You get the same high quality and proven reliability you expect from industry leader Nautilus Hyosung.
KEY FEATURES
INNOVATIVE DESIGN
The 2800T offers a wide range of transactions and features a user-friendly interface with a large 12.1" display screen and tactile touch with function keys.
CAPACITY
A significant advantage of the 2800T ATM is its high-capacity note storage able to accommodate up to three removable cassettes to make managing your cash easier.
RELIABILITY
Ease of maintenance and simplified service routines provide maximum availability and increased uptime with minimal operational intervention.
VISIBILITY
The built-in LED backlit sign makes this already attractive ATM even more visible. Add a video topper to stream advertising of your choice to attract more sales and customers.
---
Hyosung 4000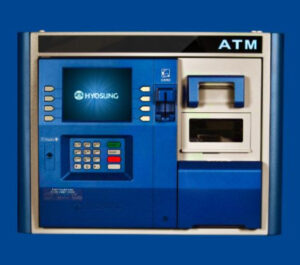 The 4000W is a compact day safe ATM for interior use. It's ideal for smaller stores, coffee shops, bars and other locales where space is at a premium. Best of all, it serves as a hassle-free revenue generator in a reliable, secure platform. The 4000W delivers the same high quality and proven dependability you expect from industry leader Hyosung.
KEY FEATURES
COMPACT SIZE
The 4000W can be mounted to a wall using the sturdy steel brackets included with every ATM or optionally mounted on a table or counter-top. The 4000W provides full set of features in a compact package and sets the standard for innovation and convenience for small spaces.
INNOVATIVE DESIGN
The 4000W provides unsurpassed convenience to all users by providing an intuitive graphical user interface through an 8-inch color LCD screen. The 4000W was designed with speed and ease-of-use in mind so you get rapid transaction processing and speedy service.
MAXIMUM RELIABILITY
Ease of maintenance and simplified service ensure maximum availability and uptime with minimal operational intervention.
ADVANCED TECHNOLOGY
EMV-ready configurations are available now for Canadian customers. US customers can order EMV as an option and easily enable the feature as soon as processors offer support without changing machines or components. The 4000W will also support Hyosung's advanced function applications such as Dynamic Currency Conversion and MoniView Remote Management Software.
---
Why Should You Choose Our ATM Products For Sale
Delivering a great customer experience time after time with our full range of ATM Services. Without smooth running ATMs and properly configured POS, you can't serve your customers efficiently, and they are likely to get frustrated and run to your competition. At ATMSCANADA, we have the expertise, tools, and experience you need to take care of all your cash management needs efficiently and cost-effectively. Here are some of the compelling reasons that put us on the top, and why you should choose our ATM products-:
A variety of ATM Models
ATMSCANADA has a variety of ATM models and products for you to choose from. We understand the versatile nature of businesses and the dynamic needs they have for cash management. With the incredible variety of ATM models, we have, you are assured in finding the right solutions that will meet the cash management needs of your business. If you are not sure of the most suitable solution for your needs, our experts will be handy to help you make the right choice.
Operations in multiple locations
As one of the leading ATM companies in Canada and among the top POS machine vendors, we enjoy an incredible network across the Canada, and we are making big improvements in the ATM industry. It simply means that working with us is a chance to tap into our already large network for the success of your small businesses and the convenience of your valued customers.
Superior customer support
We are aware of how frustrating it can be for you and your clients if your ATMs and POS machines malfunctions. Sometimes breakdowns are inevitable, but we can assure you of world-class local support should you run into any challenges. Our technicians are always on standby to receive your calls, respond to your emails and show up on-site to resolve whatever issues you may be encountering.